Available Sealyham Terriers
Below is a list of ASTC members who can help you research the breed or find your next companion. ALWAYS USE CAUTION when purchasing a pet and NEVER buy from someone not proven a reputable breeder.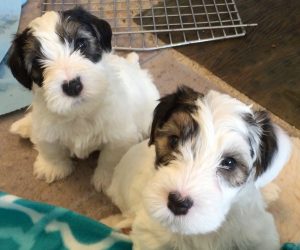 BEFORE BUYING A PUPPY — ASK THE BREEDER: Have both the sire and dam been DNA tested for Lens Luxation?
Are you registered on the SealyHealthGuard website?
Are your dogs registered on SealyHealthGuard with the results of any Health tests?
Puppies or Adults – AVAILABLE or EXPECTED
Enter Search terms to select a state or country, or "Yes" for puppies or dogs available. 
**Note to Breeders:   Please Report Updates / Adds / Corrections to List

BREEDER REFERRALS Feel free to contact to meet or discuss the breed, but this listing does not mean they have dogs available, it is for breed info only. See above list for available dogs.
| STATE/COUNTRY | NAME | PHONE | EMAIL | PUPPIES? | ADULTS/OLDER PUPPIES? | MORE INFO |
| --- | --- | --- | --- | --- | --- | --- |
| California | Debbie & Pete Barabe | | PeteBarabe@verizon.net | | | |
| California | Ken & Karen Haugland | 831-638-1592 | khauglan@yahoo.com | | | |
| California | Suzanne Hill | 831)574-8126 or 916) 212-2198 | Suzhartleyhill@yahoo.com | | | Sterling Sealyhams |
| California | Karen Montgomery | 916-934-9292 | sillysealy@sbcglobal.net | | | |
| California | Laurie Prather | 408-848-6480 | laurie_prather@hotmail.com | | | |
| California | Janice Simonds | 415-897-1144 | roverrunmom@comcast.net | | | |
| California | Bonney Snyder | 805-375-3002 | bonwheat@aol.com | | | |
| California | The Taggarts | 408 607 1373 | bigperm@ix.netcom.com | | | Slyfox@Youtube |
| Colorado | Ronne June | 719-846-8264 | ronnejune@shshown.com | | | Shshown |
| Conneticut | Carrie Pryor | 917-327-0557 | cpryor@greenwichhp.com | | | |
| Florida | Barbara & Irwin Shapiro | 732-915-9180 | schnzrsgrl@aol.com | | | |
| Georgia | Peggy Browne | 770-655-5757 | margaretbrowne@bellsouth.net | | | |
| Idaho | Jenny Voss | 208-941-6204 | msjvoss@gmail.com Cadoriasealyhams@gmail.com | | | www.cadoriasealyhams.com |
| Idaho | Vicki Voss | 208-467-3200 | rickandvickiv@gmail.com | | | www.cadoriasealyhams.com |
| Iowa | Diana Francois | 563-588-9380 | dubwyre@aol.com | | | |
| Illinois | Tim & Jodie Childers | 217-546-6193 | | | | |
| Illinois | Cheryl Jennings | 847-828-4080 | cheryljennings1@icloud.com | | | |
| Kansas | Peg McCarthy | 785-232-8867 | pegmccarthy64@gmail.com | | | |
| Kentucky | Hotshot Sealyhams | 817-929-4264 | | | | |
| Kentucky | Mike & Mary Mirre | 859-881-9519 | mirre@windstream.net | | | |
| Maryland | Leslie Jaseph | 410-451-0696 | ljaseph@aol.com | | | |
| Maryland | Allen Smith & Michael McCracken | 301-779-6460 | mcsmith@bellatlantic.net | | | |
| Michigan | Hope Browne | 517-294-1677 | hopebrowne@yahoo.com | | | |
| Michigan | Ingrid David | 616-510-5560 | ingriddavid25@gmail.com | | | |
| Minnesota | Sarah Sweatt | 612-377-5513 | bushaway@earthlink.net | | | |
| Missouri | Lisa Wright | 816-565-0600 | lisa@sealyham.us | | | Thistle & Rock |
| Nevada | Gregg Ziegler | 323-219-2921 | GreggZiegler@yahoo.com | | | |
| New Jersey | Barbara & Jon Monteleone | 973-222-7092 | barb.monteleone@gmail.com | | | Free Range |
| Ohio | Lisa Inman Lee | 760-774-0081 | contact@afterglowkennels.com | | | Afterglow |
| Oklahoma | Rena Rhoades | 405-348-6676 | Rena.rhoades@sonicdrivein.com | | | |
| Pennsylvania | John Friedel & Ken Kauffman | 267-733-2705 | brehannon@hotmail.com | | | |
| Pennsylvania | Margery Good | 610-593-6110 | | | | Goodspice |
| Pennsylvania | Sarah Hawks | 302-366-8161 | epilady51@hotmail.com | | | |
| Tennessee | Pattie Kennedy | 615-578-1692 | ryliedav@hotmail.com | | | |
| Texas | Sandy Schneider | 512-674-6034 | dobuni@me.com | | | Meeple People |
| Virginia | Mary Pat Balkus | 540-639-1428 | | | | |
| Virginia | Sarah Boyd | 540-942-3636 | | | | |
| Virginia | June Cohron, DVM | 540-337-3592 | drjune@comcast.net | | | Rosemont |
| Virginia | Sharon Yard | 703-501-2012 | sharon.yard@icloud.com | | | |
| Washington | Carolyn Echelbarger | 206-909-2664 | potto1@comcast.net | | | Bluff's End |
| Washington | Kate Flack | 206-601-0515 | alibisealys@gmail.com | | | Alibi Sealyhams |
| Washington | Vanessa O'Donnell | 360 929-9327 | fablefarms@gmail.com | | | Fable Farms |
| Washington | Karin Parish | 360-341-1296 | kparish@whidbey.com | | | RAINDANCER Kennel |
| Intl - Manitoba, Canada | Val Burch | 204-754-2528 | valburch@xplornet.ca | | | |
| Intl - Ontario, Canada | Kathey Holroyd | 905-263-4266 | mudville60@hotmail.com | | | Bushwell |
| Intl - Alberta, Canada | Lisa Jowett | 204-898-0800 | lisajowett@live.ca | | | Avalonis |
| Intl -Ontario, Canada | Barbara Welch | 613-733-5083 | glenwell@rocnet.ca | | | |
| Intl - Finland | Carita and Harri Natunen | +358-50-531 3085 | six-pack@sealyham.fi | | | Six-Pack |
| Intl - Sweden | Anna Ottosson Gersner (Sweden) | +46 46135932 | Êllawhaden@gmail.com | | | Llawhaden |
| Intl - Sweden | Olga Forlicz | +46723378568 | okforlicz@gmail.com | | | Forlegd |
| Intl - Sweden | Fredrik Ahs | +46702230610 | fredrikshundar@gmail.com | | | Forlegd |
| Intl - New Zealand | Lorayne Tennet | 7-887-2715 | tentyne-sealyhams@xtra.co.nz | | | Tentyne |