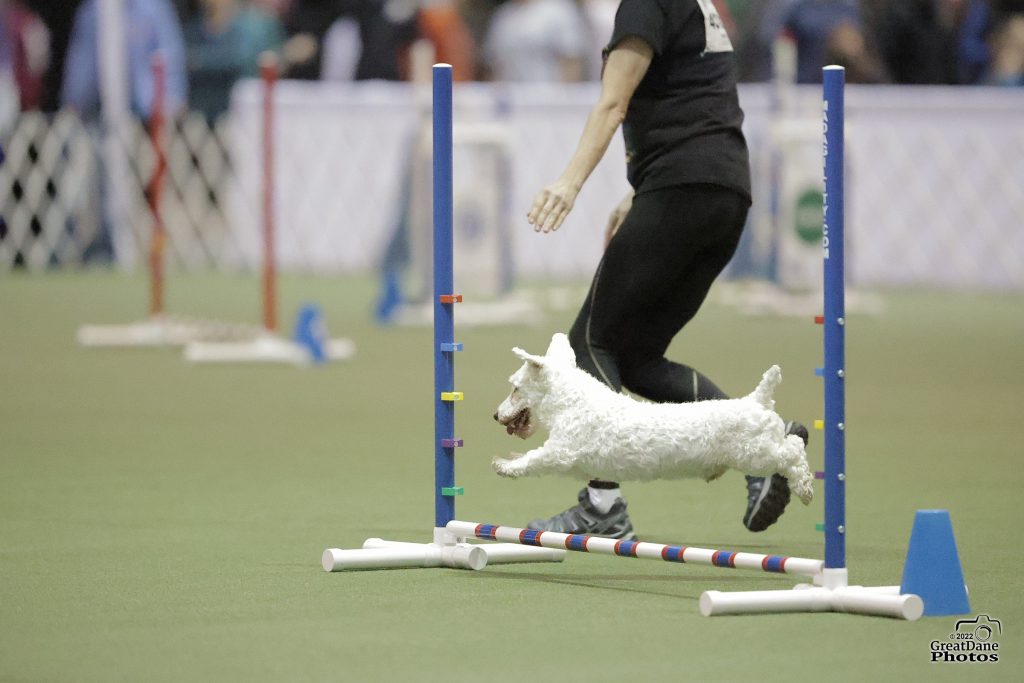 A few weeks ago the AKC National took over Orlando Florida, and while Margery Good's Stache, also known as GCHG CH Goodspice Efbe Money Stache, was winning big with both a Terrier group 1 and Bred-By Terrier group 1, there were also sport events going on, including the Fast Cat and Agility invitationals. These events invite the top 5 dogs of each breed to compete over a series of days.
3 Agility Sealy attended the AKC Agility Invitational , Priscilla Hill-Wampler's Shimmy won top Sealy honors as well as being 2021 top AKC agility Sealy, she is also the breed's first dog to attain a Master Agility Championship "2", meeting the requirements of 750 speed points and 20 double Qs – TWICE. Shimmy's registered name is
MACH2 Thunder Rd Shimmy Shimmy Coco Bop MXC MJC OF
Pictured is LittleMan, also owned by Priscilla Hill-Wampler and litter brother to Top Agility dog Shimmy. LittleMan's full name is PACH Thunder Rd Goodspice Sugarsweet OA OAJ MXP7 MXPG MJP7 MJPG PAX OFP T2BP. LittleMan runs in the preferred division, and is the breed's first dog to earn the Preferred Agility Champion title. Most Sealy fans will remember years ago when LittleMan had life saving surgery due to a serious Liver shunt. Considered lucky to survive at all, LittleMan proved with his Sealy heart and toughness he could thrive.
Also competing was Robin Murtha's multi-sport champion dog Dexter, full name: GCH CH Rosemont's High Society's Haven RN MX MXB MXJ MJB XF FCAT ACT1 TKN ATT VHMA VSWB. Dexter not only ran the 5 Agility runs of the invitational but also competed in the AKC Fast CAT invitational, Qualifying in both Events.
This year 3 Sealyham Terriers made the trip to Orlando to compete in the FCAT invitational. FAST CAT invitational involves 2 preliminary rounds and then the top 2 of each breed run in a finals run.The top AKC FAST CAT Sealyham Terrier for 2021 and for the event was Ashley Tilley's Allie, full name Rosemont's All Eyes On Her NA NAJ OF FCAT2 ACT1 TKA ATT VHMA VSWB.
Finishing as 2nd fastest Sealy in the finals was
Bev Thompson's Pip-pa, full name: Goodspice Full Of The Dickens JE CAA DCAT SWN SCA SIA SHDA RATO CGC TKP.